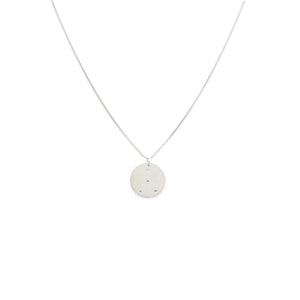 Constellation Necklace - Cancer
Regular price
$45.34
$0.00
Unit price
per
This necklace is the constellation Cancer (June 21 - July 22). Highly intuitive and sensitive to their environment, people born under this sign can effortlessly pick up on the energies of a room, but often develop a hard shell to protect themselves, like the crab which is the symbolic representation of Cancer. This pendant is a great way to wear your sign if you find wearing the word "Cancer" has you awkwardly explaining that it's just your zodiac sign. 
5/8 inch brushed sterling silver pendant on a 24 inch sterling silver box chain.
TIP: While the constellation is for the zodiac sign, customers have gotten creative and paired this pendant with our signature FUCK necklace, because - fuck cancer! Or if you need something more suitable for work, pair this with our little Dear Hart letters "F" and "U".  
---