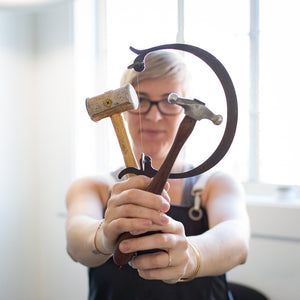 Modern, handcrafted jewelry
Designer, business owner, and goldsmith, Rachael Hatala does it all. She creates beautiful, modern, handmade jewellery using a few basic tools and her own two hands.

Rachael believes in using sustainable materials to produce heirloom quality jewellery. She makes jewellery to bring people joy. It brings her great satisfaction to see someone walk away with a huge smile on their face and a piece of her jewellery adorning their body or tucked in a box to be gifted to a loved one. A piece to be cherished; a future heirloom.