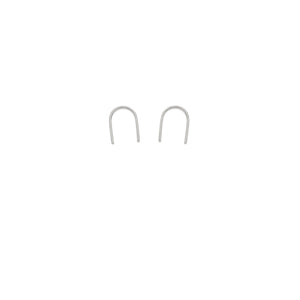 Small Arc Earrings
Regular price
$22.67
$0.00
Unit price
per
Incredibly light weight, these small arc earrings are great for a trendy yet no-fuss  look! A small piece of sterling silver is shaped with precision to just add a little sparkle to your ear.
These tiny earrings are great for wearing alone, or in a second (or third!) hole!
FAQ: 
Do these earrings fall out easily? 
No. We don't recommend playing sports or sleeping in these ones, but for typical wear they'll hang in there!
What's the difference between these and the "large arc" earrings? 
Well...these are small, and the other ones are bigger.  Hahaha. Sorry, we couldn't resist! These measure about 1cm from the top of the arc to the end, and the large arc earrings a bit longer at about 1.5cm with a slightly larger curve too. 
---